The benefits of Lean Six Sigma have been well documented for both professionals and organizations alike since the introduction and adoption of this methodology stateside in the late 1980s. Since then, companies around the world and across numerous industries have found success with this method of process improvement, upskilling employees, problem-solving, and continuous learning. It's safe to say that Lean Six Sigma has always been a game-changer, but now, its guiding principles are more important than ever.
The Benefits of Lean Six Sigma in the Aftermath of Covid-19
The global pandemic caused a dramatic shift in the way many companies do business. From transitioning to a remote workforce to scaling up online and virtual processes and finding new ways to cut costs, there were countless workflow changes (and challenges) to reckon with.
Aside from massive changes in consumer spending, companies also had to dial in on day-to-day processes and navigate the prioritization of a safe working environment. Many had to figure out how to set up their workplace in compliance with CDC Guidelines such as social distancing, providing face masks and hand-sanitizing stations, installing air filtration systems, and implementing stringent cleaning regimens. It might not be obvious at first, but this is actually a key output of any continuous improvement or Lean Six Sigma effort: standardization or standard work.
"What we saw during the onset of Covid-19 was an economic crisis and major disruptions of our nation's supply chain. The biggest challenges we saw at the start of the global pandemic were that businesses needed to act quickly and pivot to meet the needs of our country with simple things like face masks, hand sanitizer, and sanitizing wipes," explained Jennifer Ralston, CEO of Sensei On Demand. 
"The other big change was that companies needed to be agile and open to shifting their strategy and goals to help others. For example, one of our clients went from making missiles to making ventilators, and another from making vodka to making hand sanitizer."  
For larger companies, even small changes are a huge undertaking, and the changes required by our new reality were no minor undertaking. With Lean Six Sigma, however, things went a lot smoother.
"We saw great success with our clients that had truly embraced Lean Six Sigma and Continuous Improvement mindsets during these trying times," shared Ralston. "Even before Covid, this holds true. I remember at American Red Cross during 9/11 and Hurricane Katrina, we had to act in an agile manner so that our biomedical staff, who were manufacturing blood products, could shift to disaster relief efforts."  
The same parallel can be drawn between our clients that had to pivot during the pandemic. One company that makes corporate signs, for example, pivoted to make visual indicators for social distancing and "mask required" signs. These shifts were a great success and helped mitigate the issues caused by supply chain disruptions. 
"A big key to success was that these companies could fully visualize and see their processes, and quickly adjust and adapt to meet the country's needs," Ralston continued. "As a result, profits were made and they experienced a great deal of success."
As vaccines roll out and restrictions are lifted, the ongoing use of continuous improvement and Lean Six Sigma methods will ensure that companies document their processes and have stakeholder input to brainstorm root causes of problems. In other words, this is collaborative problem-solving at its finest. When you have a workforce that is all behind this, you can easily make changes for the better—and be ready when the next disaster strikes.
The Benefits of Lean Six Sigma: Who Wins with Certifications in a Post-Pandemic World?
Lean Six Sigma certifications aren't just about preparing you for disaster, however. By building out processes that are flexible, adaptable, and easily adjusted for supply and demand, you'll ensure a healthy bottom line for any organization in ALL climates.
With Lean Six Sigma, there is an opportunity to pivot and reskill the workforce in order to optimize performance in this new landscape. This means that both organizations and individuals alike can glean major benefits from this methodology. 
Let's take a look at the benefits of Lean Six Sigma certification in a broader sense for all entities involved. 
Benefits of Lean Six Sigma for Organizations: Companies can expect to see significant savings, increased efficiency, employee retention, improved company culture, and an improved customer experience when they invest in Lean Six Sigma training for their employees.
Simple examples can be seen in a Phlebotomist Kit.  You can see the Before Photo shows a mess, and what was happening as blood for labs were being drawn in the incorrect test tube – causing the patient to then come back to have their blood redrawn.  This making a very unhappy patient.
In the After Photo, you can see simple improvements where the Phlebotomist Kit is very organized and visually you can see that there is a place for everything.   This simple improvement is what we call 5S Methodology and Visual Management.  These simple changes reduced the test tubes being collected incorrectly by over 50%.  Saving time, money, and errors.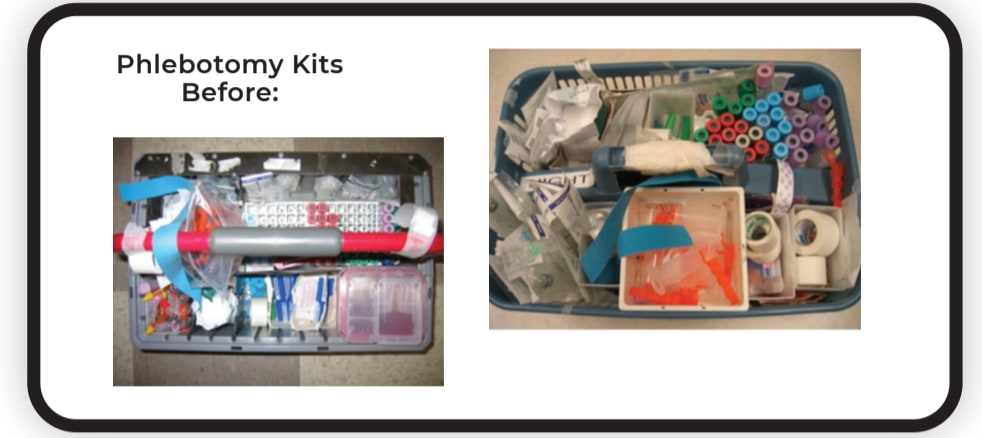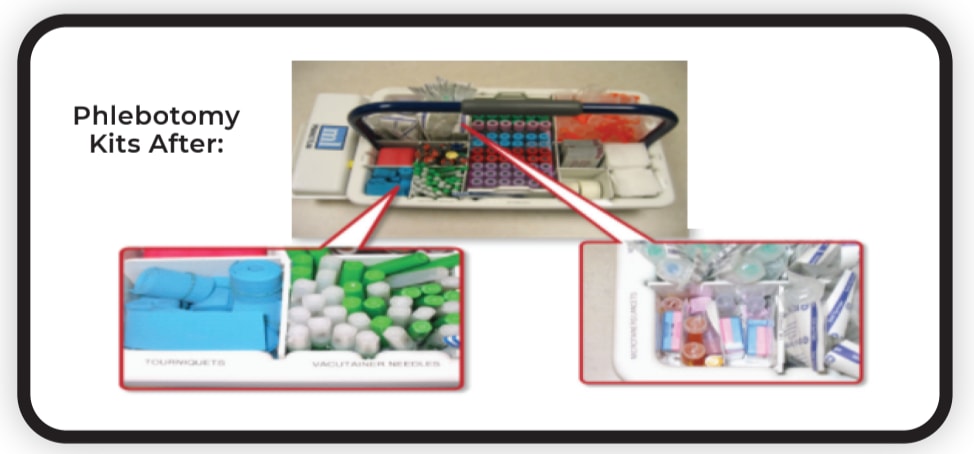 According to HR Magazine, employers who invest in training see 24% higher profit margins. And if that doesn't convince you, here's a truly notable stat: 93% of employees will stay at a company if they have development opportunities. 
Benefits of Lean Six Sigma for Individuals: On average, Six Sigma Black Belt certified professionals are earning up to $167,000  versus an average of $93,000. Individuals can expect to see professional growth, networking opportunities, professional credibility, future opportunities, and industry recognition when they or their employers invest in Lean Six Sigma training.  
Earning potential is enough to convince most professionals of the benefits of Lean Six Sigma, but job satisfaction and recognition are inherently valuable on their own. When employees are happy with their job, one study found that they demonstrated an average of 31% more productivity and 37% higher sales. It's a true win-win for everyone. 
Benefits of Lean Six Sigma for Industries: The great thing about Lean Six Sigma is that it's universally applicable to all industries. From defense and pharmaceuticals to insurance and automobiles; from supply chain management to food & beverage: The list is virtually endless. Because Lean Six Sigma focuses on process improvement, the principles can be applied at any company, in any industry, in any country. 
We have included a video to share with you how on how Lean Six Sigma Isn't Just for Manufacturing.
Want to see firsthand the industries we've impacted? Here's how Sensei On Demand helped three very different organizations:
Benefits of Lean Six Sigma by Certification: No matter what level of certification you or your employees are currently pursuing, there are intrinsic benefits to each. Here are a few essentials to familiarize yourself with: 
Lean Awareness

: You'll gain a basic understanding and awareness of Lean Principles and Problem Solving.

Lean Practitioner

: At this level, you'll begin to become a Practitioner of the Lean Principles and be able to lead your first Problem-Solving Effort with Lean Six Sigma Tools.

White Belt

: Here, you'll learn what to look for as a Problem Solving and Lean Six Sigma Champion or Sponsor.

Yellow Belt

: With this certification, you'll learn how to be an amazing team member of a Problem Solving and Lean Six Sigma Team.

Green Belt

: You'll be able to understand advanced analysis and can resolve problems that affect quality.

Black Belt

: At this level, you'll obtain a robust understanding of the process, master new difficulties, and become a true business leader.
Interested in learning more about the benefits of Lean Six Sigma and what each certification offers? Check out our course offerings here >> 
There are many benefits of Lean Six Sigma for organizations and individuals looking to upskill, reskill, and stay ahead of the curve. With Sensei On Demand, we can help you make the most of those benefits with our Lean Six Sigma training. If you're ready to cut costs, increase efficiency, and improve the customer experience in a post-pandemic world, let us help upskill your future leaders, drive process improvement, and take you on a continuous learning journey that will change your life and your business for the better.